Come On In For Christmas Eve Lunch & Dinner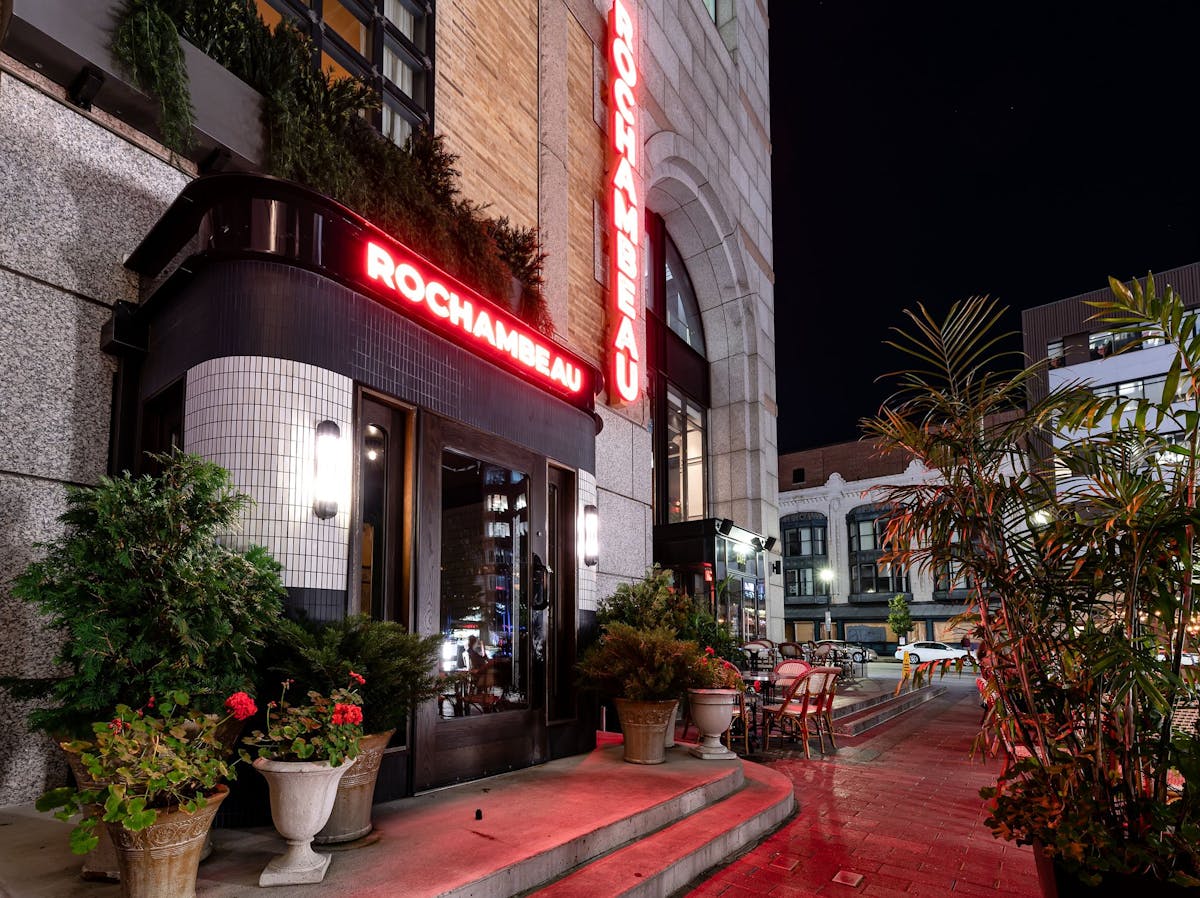 If you're in search of a restaurant to attend on Christmas Eve, your search ends here. Whether you plan on dining with us for lunch or dinner, Rochambeau has a wide selection of appetizers, soups, salads, and entrees for you to choose from. Please continue reading below to learn more about these menu items and how you can enjoy your Christmas Eve with us!
Fruits De Mer
Lunch
The following options are available during our Lunch hours:
Oysters*
Shrimp Cocktail
Crab Cocktail
Lobster Cocktail
Little Necks* (1/2 Dz)
Plateau De Fruites De Mer
Dinner
You can expect to find all of the above options, as well as the Regiis Ova Caviar, a potato cake with smoked salmon and creme fraiche.
Hors D'oeuvres
Lunch
Freshly Toasted Baguette: salted plugra butter, cornichons
Foie Grass Mousse: apple calvados gelee
French Onion Dip: herbs, chips
Citrus & Herbed Olives
Salmon Tartare*: lemon oil, horseradish crème fraîche, caper, hard boiled farm egg
Alsatian Flatbread: stracchino, cured ham, preserved lemon, arugula
Escargot: garlic butter, crispy toast
Charcuterie & Cheese Board: fig mostarda, pickles sourdough toast
Dinner
Although the French Onion Dip and Salmon Tartare are only available during lunch, the following items can be substituted during our Dinner hours:
Avocado Mousse crudité
Steak Tartare*: black truffle aioli, parmesan, cured egg yolk, microgreens
Grilled Foraged Mushrooms: circulated farm egg, soft polenta, porcini vinaigrette
Grilled Cauliflower: fine herb caper emulsion, almonds, cauliflower couscous
Grilled Octopus: fennel, saffron, lillet blanc, chickpeas, espelette oil
Parisian Gnocchi: brown butter roasted squashes, sage, pumpkin seed oil, banyuls
Soup & Salad
Lunch
French Onion Soup: Gratinée gruyère, oxtail, croutons
Clam Chowder
Burrata: marinated beets, orange pistachio gremolata, cabernet vinaigrette
Avocado Mousse: crème fraîche, crudité
Romaine & Kale Caesar: croutons, creamy parmesan dressing
Green Salad: urfa, dijon vinaigrette
Express Lunch with your choice of: french onion soup or caesar salad, & bolognese or croque monsieur
Dinner
In addition to the above soups or salads, we also offer a Chopped Chambeau Salad, with hearts of palm, point reyes blue cheese, avocado, smoked bacon, grilled chicken, cherry tomatoes, crumbs, leaf lettuce, and a creamy provencal dressing.
Entrees
Lunch
Roast Turkey Sandwich: bacon, leaf lettuce, avocado, tomatoes, mustard aïoli, brioche
Broccoli Reuben: rye, sauerkraut, swiss cheese, thousand island dressing
Frenchie Burger*: raclette, caramelized onions, pork belly, pomme frites
Crispy Chicken Sandwich: B&B pickled, sweet potato roll, smoked BBQ aïoli, pommes frites
Croque Monsieur: ham, brioche, béchamel, gruyère, pommes frites
Croque Madame*: add fried egg
Steak Frites*: 12 oz NY sirloin, pommes frites, béarnaise, garlic butter
Moules Frites*: hefeweizen, smoked bacon, creme fraîche, shallot, parsley, lemon
Classic Bolognese: beef, veal & sweet sausage ragù, casarecce, parmesan, pecorino
Grilled Chicken Paillard: greens, dijon vinaigrette, parmesan, tomato, radish
Dinner
Pot Au Feu: chuck short ribs, roasted bone marrow, beef broth, vegetables boulangere, pomme aligot
Prosciutto Wrapped Cod*: duxberry clams, marble potatoes, braised leeks, fennel vermouth veloute, parsley pistou
Honey Roasted Duck Breast*: red wine shallot puree, autumn fruits & vegetables, verjus
Cassoulet: duck confit, pork belly, garlic, sausage, butter beans
Grilled Acorn Squash: dairyless autumn squash puree, pearl barley, vadouvan, coconut curry
Half Chicken*: beluga lentils, smoked bacon, crispy hen egg
Grilled Hampshire Pork Loin*: buckwheat spaetzle, choucroute garnie, parsnip purée, apple cider jus
Classic Bolognese: beef, veal & sweet sausage ragù, casarecce, parmesan, pecorino
Spinach Mascarpone Ravioli: sauteed artichokes, parmesan veloute, arugula gremolata
Frenchie Burger*: wagyu, raclette, caramelized onions, pork belly, cornichon
Contact Rochambeau Today
For more information about how you can dine with us on Christmas Eve, please get in contact with one of our team members today. We are more than happy to accommodate any of your needs. To get started, please call (617) 247-0400 or fill out a contact form on our website.