What you need to know about Charcuterie Boards!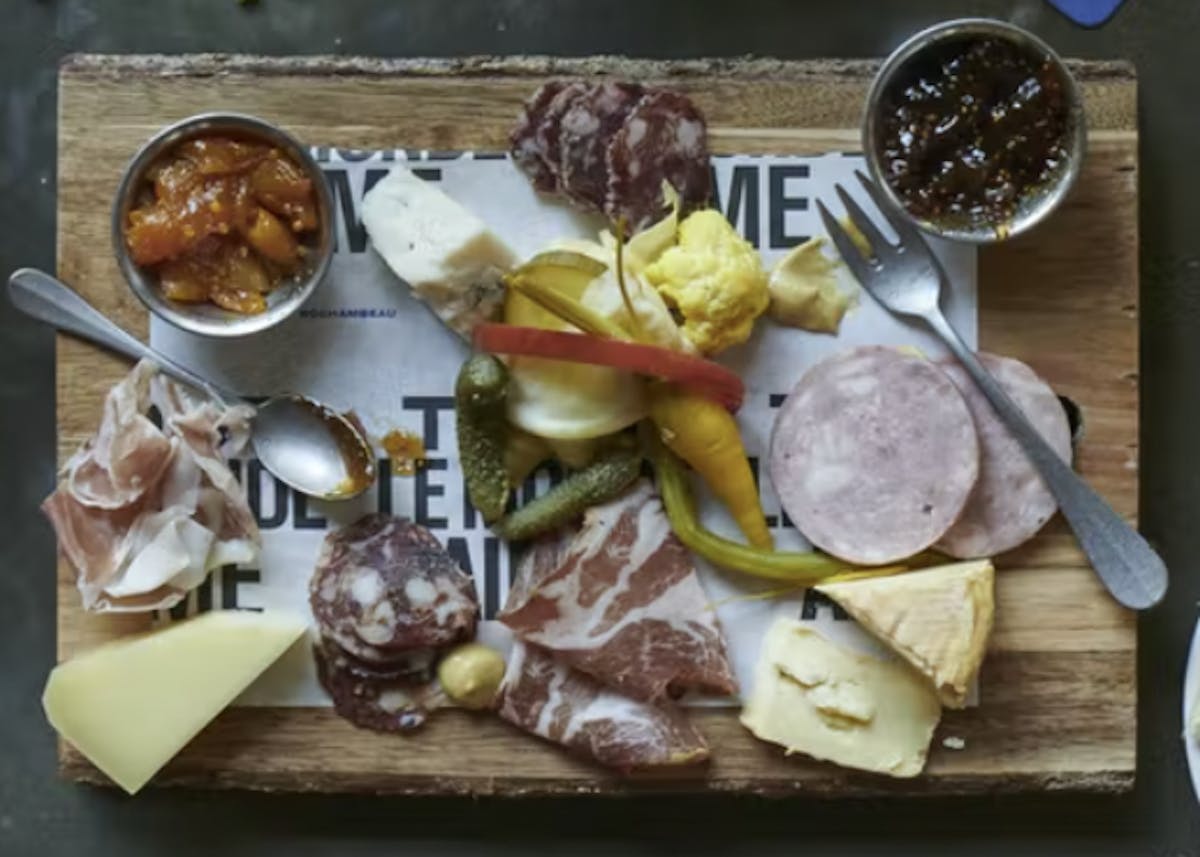 In recent years charcuterie boards have reached mainstream popularity. Largely due to the creation of aesthetically pleasing boards on social media platforms such as Instagram and TikTok. Videos showcasing the process of making a board and the acute attention to detail with a beautiful (and delicious) final product have taken the nation by storm. So much so that you can even find restaurants that exclusively only sell custom charcuterie boards. You can now find dessert boards just as easily as you can find a savory board. But did you know that charcuterie boards originate from France? At Rochambeau, we offer a classic french style charcuterie board on our snack menu. Keep reading to learn more about the origins of charcuterie boards and the traditional way they are served.
Brief history
The word "charcuterie" originates from the french words for "cooked flesh". Simply because that is quite literally what is on the board. This dish dates back to about the 15ht century, a time when people used every single part of their food and let nothing go to waste. This birthed the process of preserving meats through curing usually with salt, vinegar, and smoke. Traditionally pork was used but in today's day and age, there are many other types of meat that are used. The charcuterie board has come a long way since it originated. These boards have been very common in Europe but did not pick up in popularity in the U.S until recent years.
How to assemble
To assemble a board of your own you must first acquire some kind of platter/board to serve it on. Wooden boards are most commonly used and can be found at a variety of stores or ordered online. Next, gather your ingredients you can be as traditional or innovative as you would like to be with your board. If you're going the traditional route we suggest getting prosciutto, soppressata, or salami for your meats and french cheeses like brie or gruyere. Next, get a baguette and some grapes to help balance out the strong flavors of the board. Now you're ready to assemble. Be as creative as you would like until the board is to your liking!
Rochambeau Charcuteri board
At Rochambeau, our charcuterie board is offered under the "snack" section of our dinner menu. We only work with the best cuts of dried meats and cheeses so our dinner guests can have an authentic French dining experience. Our board is served with a selection of quality dried meats as well as a side of fig mostarda, pickles, and sourdough toast. Served the way you would find it in France this dish is best shared with friends and family. If you dine out on our outdoor patio you will feel like you've been teleported to the french countryside.
Authentic French Dining at Rochambeau in Boston!
Charcuterie boards aren't the only thing we have to offer. We have an entire menu equipt with loads of authentic french dishes waiting to be indulged upon. What are you waiting for? Make a reservation today to start your journey into French cuisine! Our doors are open and ready to serve you.