Valentine's Day at Rochambeau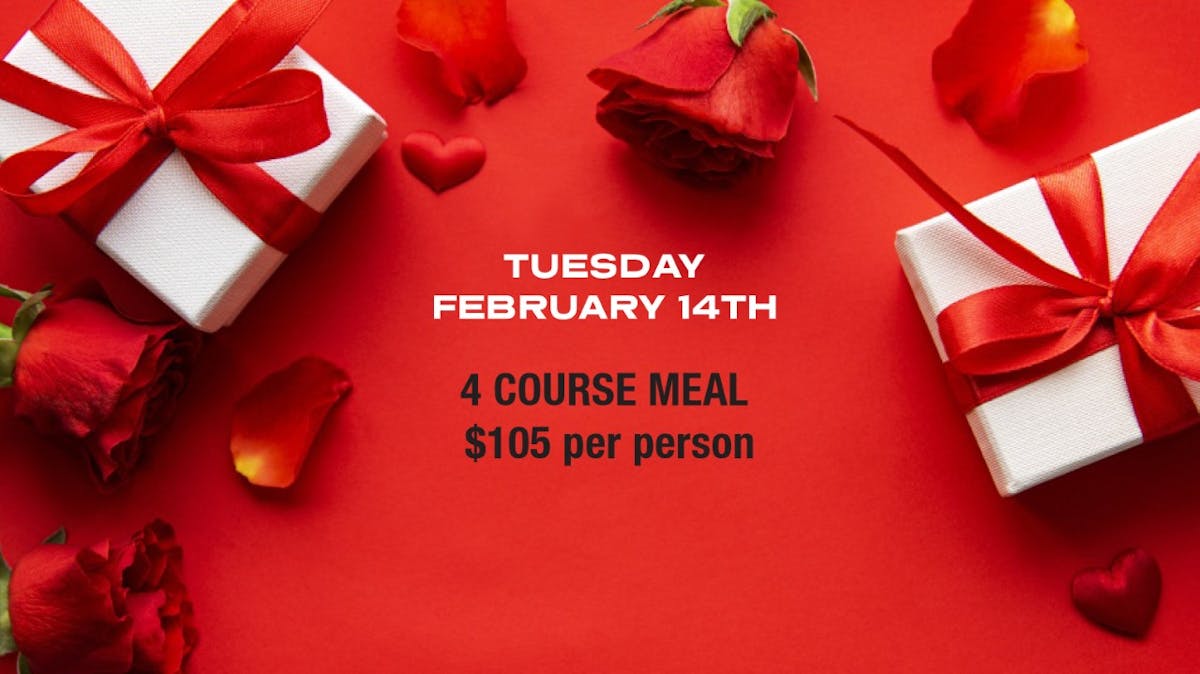 France is the city of love. What better way to celebrate your romance than to dine with a French-fare themed restaurant on Valentine's Day? On Tuesday, February 14th, enjoy a 4 course meal with your loved one for an amazing price of $105 per person. For more information about the menu and what it entails, please continue reading below.
1st Course
Your options for the first course include several light fare items:
Burrata Salad
Marinated Beets, Orange Pistachio Gremolata, Cabernet Vinaigrette
Velouté Of New England Shellfish
Lobster, Duxbury Clams, Maine Mussels, Smoked Bacon
Black Tie Scallops
Brown Butter Parsnip Puree, Flakey Crust, Black Truffle Jus
Grilled Heirloom Cauliflower
Fine Herb Caper Emulsion, Roasted Florets, Baby Spinach
2nd Course
As for the second course, the following options begin to get a bit heavier:
Black Truffle Risotto
Spinach Mascarpone Ravioli
Sauteed Artichokes, Parmesan Velouté, Arugula Gremolata
Parisian Gnocchi
Brown Butter Roasted Squashes, Sage, Pumpkin Seed Oil, Banyuls
Gluten Free Pasta Inverno
Mushroom Ragu, Roasted Cabbage, Pecorino
3rd Course
The third course, or the entree of this four course meal, include the following options:
Brioche Crusted Halibut
Caviar Butter, Crushed Fingerlings, Swiss Chard
Apple Chestnut Stuffed Amish Chicken Breast
Brown Butter Pomme Puree, Salsify, Brussels Sprouts Leaves, Apple Cider Reduction
Duet Of Beef
Wood Grilled New York Sirloin, Red Wine Braised Short Rib, Root Vegetable Ecresse, Red Wine Reduction
Grilled Acorn Squash
Dairyless Autumn Squash Puree, Pearl Barley, Vadouvan, Coconut Curry
4th Course
Finally, the last course of this meal includes some rich and indulgent options:
Floated Island
Black Berry Anglaise, Mint
Profiteroles
Dark Chocolate, Vanilla Ice Cream
Chocolate Torte
Artisanal Cheese Plate For Two
Apricot Mostarda, Honey, Grapes, Sourdough
Dine with Rochambeau Every Valentine's Day
Have you made your decision on what each course menu item will look like for your Valentine's day dinner? If you have any outstanding questions, or would like to secure your reservation, please don't hesitate to contact us at Rochambeau. Make our restaurant your go-to for every Valentine's day! To get in contact with us, please call (617) 247-0400 or fill out a contact form online. We look forward to helping you celebrate your love today and every day!